Cupcakes are big, well no they're not actually they're tiny, but these sweet and innocent little baked fancies are taking over. Crafty people all over the world are being inspired by tiny little cakes to making not only real and increasingly ornate cakes (edible works of art) but also all manner of handmade items that can be made to resemble or can be adorned with, this most enchanting and nostalgic of birthday treats…

…and they're selling like hotcakes (or should that be cupcakes?!)



I posted a thread recently on the Folksy Forum requesting some help with ideas for a theme for my weekly Mini Treasury feature and Julia from Midsummerstitches asked if I'd thought of doing cupcakes… well no I hadn't and to be honest I hadn't thought much about cupcakes at all except when making them for my daughters birthday parties, but it seems I'm the only 30 something female on the planet that isn't thinking about them, tweeting about them, eating them, buying books about them or making cupcake shaped crafts. Just take a look at this scrummy looking soap from Lovelee Soaps on Etsy, you could easily eat one of these by mistake!

I did a quick search on Folksy for cupcakes and was amazed, I then followed this up with a search on Etsy and was astounded – there are 174 sellers on Etsy whose names alone start with cupcake, and that's just starts with cupcake…

But when did cupcakes take over and why are they now so popular with otherwise sensible Pinot Grigio swilling grown ups? And when did a large slice of chocolate cake take second place to a tiny little cake for one...


It seems that businesswomen, mothers, grandmothers students and even teenage girls have all been getting increasingly excited by cupcakes recently, and just nobody should be getting married without the obligitory cupcake wedding tower.
The 'cupcake class', is now a recognised social demographic, Trendy bakeries selling only the most chic cupcakes have been emerging in our worlds cities over the past few years, if you have one near you then I'm guessing you live in a pretty affluent postcode, lucky you!
We can congratulate our waistlines and our purses for the invention of the mini cupcake. Chocolates and petit fours somehow don't have quite the same blameless frivolity as the hallowed cupcake which we can consume guilt free, and especially a mini cupcake (or 5), it's just a tiny little burst of cute childish joy. The Cupcake Emporium in London states "each cupcake only 130 calories (same as 2 apples)"! I had better add a health warning, as clearly eating a cupcake is not the same as eating 2 apples. Looking at those sweet Robins Egg Mini Cupcakes above from Etsy's The Cupcake Mint I know which I'd rather have!

Perhaps this fascination with cupcakes comes from the nostalgia of a childs birthday party or a village cake sale, happy innocent times when we used bright crimson cochineal food colouring to produce perfect, pink, hand sized treats all covered with hundreds and thousands, and made by our mothers for us because we were special and had been so very good. We can no longer wear the pink ruffled taffeta party dresses (maybe just me) but we can eat the cupcakes and we're prepared to pay for them (£2.50 a cake!) and they had better be exquisite and no, we are not going to share.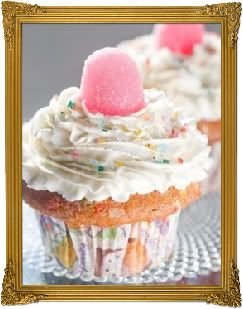 Or maybe on a more Freudian level they have a similar allure to that of beautiful lingerie, a pert little sponge cake transformed with bows, satin and lace into a tempting seductress, with a cherry on top... I won't elaborate this point, but you can see it too, right?! I spotted this amazing corset from Tusejolie who may have been thinking along the same lines with this fabric choice!

For those of us who aren't popping into the Hummingbird Bakery in London or indeed Carrie Bradshaw's favourite The Magnolia Bakery in NYC on a regular occasion then we do of course need to be constantly reminded of cupcakes in other ways lest we become faint, cue 1000 pages of cupcake related items on Etsy.

Ok it must be cupcake o'clock by now, there's a new phrase for you! I urge you to click the images included for more details on where you can get your hands on these beautiful items included here from both Folksy and Etsy sellers.